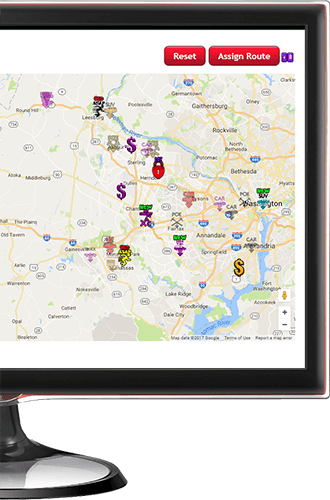 Repo software is evolving & our Live repo maps help you become more streamlined & efficient.
You can adjust each address pin in several ways to help communicate between office & field.
Say goodbye to paperwork in the field & hello to an interactive on computers & Android mobile devices.
If you are still using paperwork in the field to manage field efforts, then it's time for a better solution.
Color/Image combo shows:
Client
Collateral Type
Home or POE
Recently Added Pins
Verified Location & more
Pin Functionality:
Hover over pins to view basic info
Send routes to your Mobile App users
Access any Open order
Pin Design
Choose between 18 different colors
Choose between 19 different images
Change the colors & images as needed
This can be car, SUV, boat images etc.
or images to encourage various activity
Run ASAP, No contact etc.
We offer a mobile app designed for Android Tablets and Smartphones.
Everyone is able to access needed information 24/7 with just a mobile device.
Give your entire team great flexability and precision in the field.
Mapping:
Maps help better manage efforts
Tap pins to review basic order info
Tap the info to get deeper
Initiate navigation directly from map
Initiate Street View from map as well
3 Repo User Types
Scout: 
Recovery Agent:
Lead Recovery Agent:
Pro HD Updates:
Our App asks simple questions
Users select simple answers
20,000+ possible Q&A Updates
Pull deep details from the field
Eliminate unprofessional Updates
Updates can go to almost ANY client
Users must be within 1 mile to Update
GPS also captured as Update submits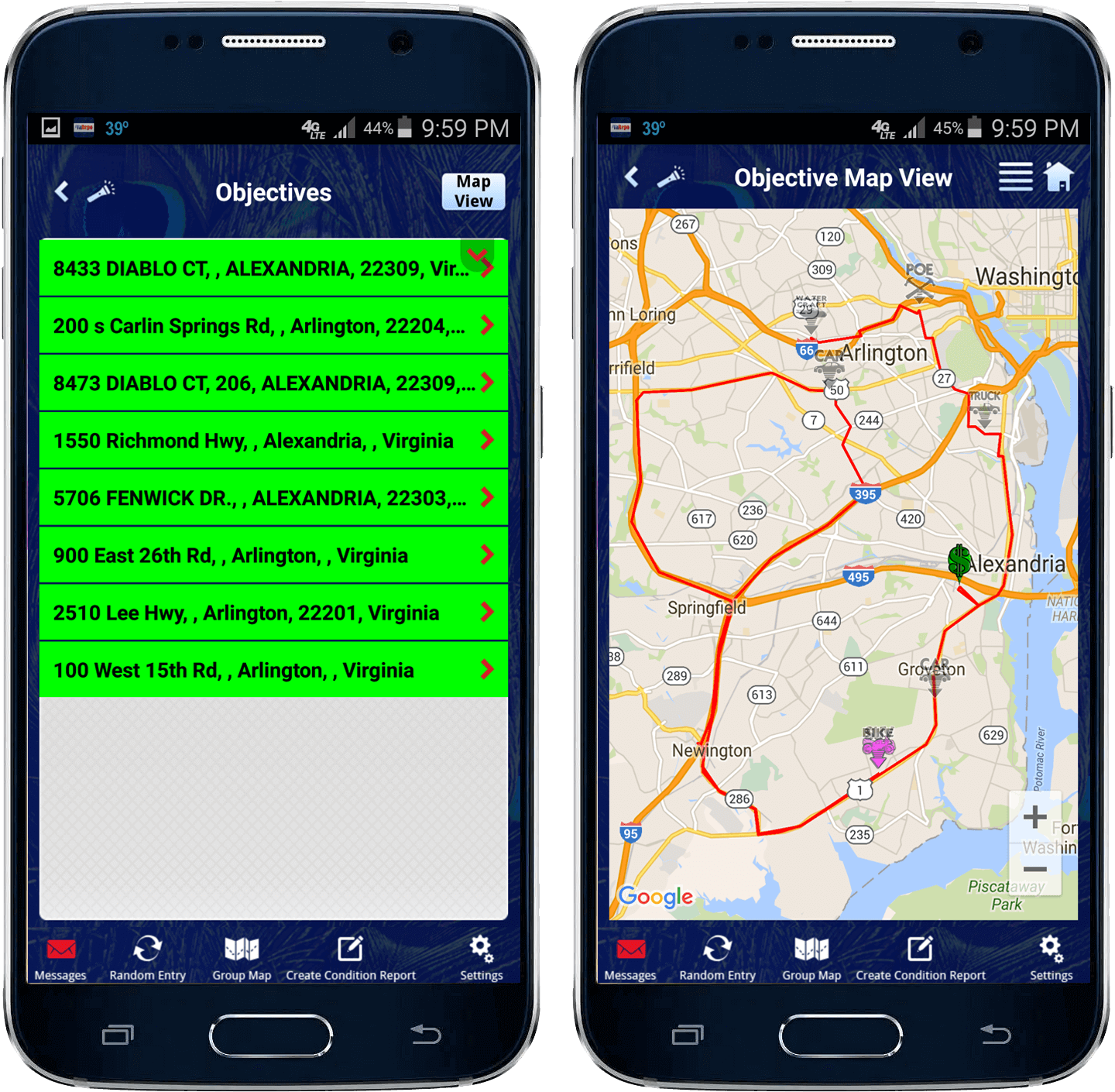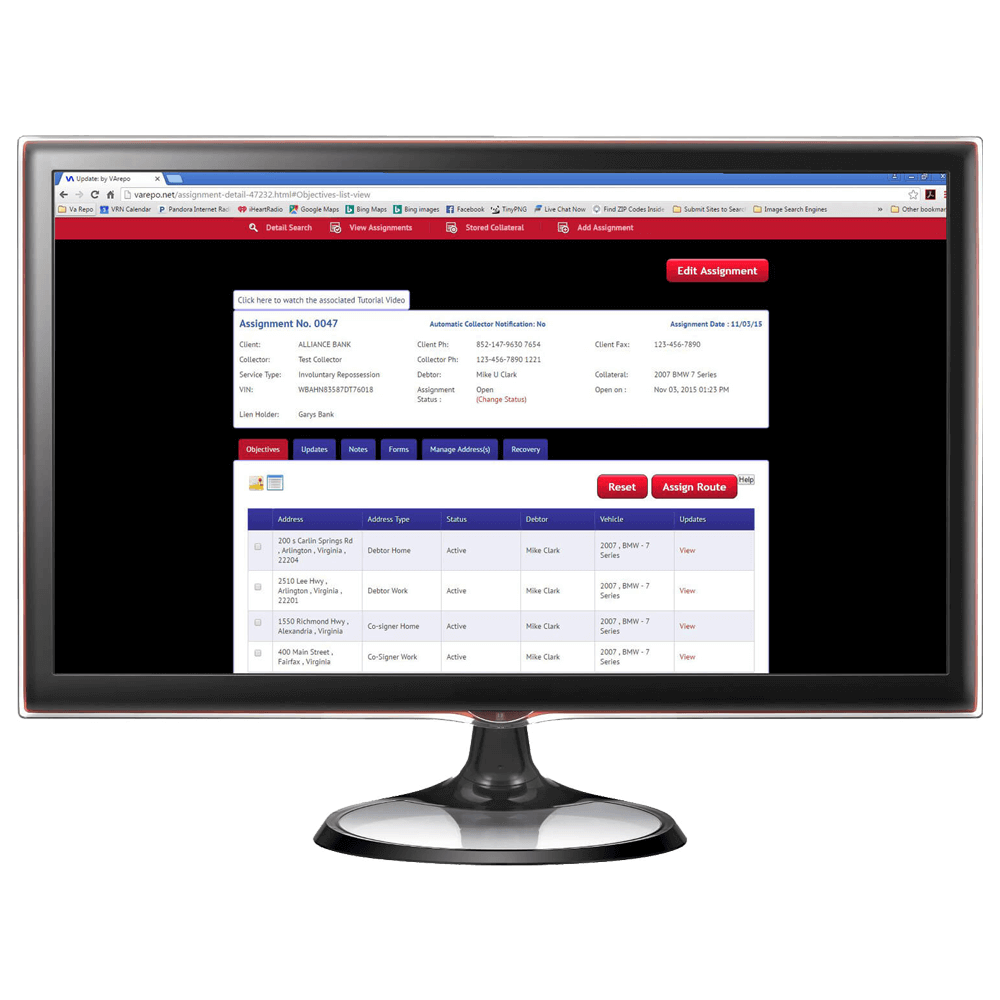 Update: by VArepo is a stand alone solution not currently integrated with any outside portal.
Our repo software helps manage efforts digitally & provide better service to clients.
Manage clients, assignments, forms, invoices, team members and more!
Feature-Rich
Manage Assignment Efforts
Web activity is Live in Mobie App
Dispatch Routes in seconds
Instant Message users easily.
Full Admin Control of Users
Automate Client Emails
Manage Forms & Invoices
Secure
Encrypted Connection
Hardware & Software Firewalls
Strict Login Security
IP Logging
User Admin
Unlimited Web or Mobile profiles
Profile information
Login details
Data throttling
Restrict login
Give clients web panel profiles
Only interact with their orders
Add, review & edit orders freely
Interact with a Live Repo Map
Create, Email, Print & Save forms as PDF documents
Cover all basics required for most company operations
Repo Order
All Activity Form
Condition Report
Delivery Form
Release Form
Redemption Form
Personal Property Release
Invoice
Client Communication
Update: by VArepo makes it simple to enter various client information & use it all throughout the Web Panel & Forms.  On top of this, you can also automate real-time Email Updates & even give your clients the ability to log in and manage everything with you digitally.
Client info is populated into orders
Fees can auto populate into Invoices
Notes can easily be emailed to clients
Send Forms throughout our Web Panel
Emails "Reply" back to your Email inbox
Auto Email clients with real-time activity
Give your clients free login capabilities
Unlimited Everything
Software is more enjoyable when it comes with unlimited use and no additional fees and we let our users freely add & manage Web Panel & Mobile App users with full Admin Control & no limits.  Our repo software was initially designed as a "secret weapon" by a repo team that wasn't trying to charge themselves based on their number of users.  Ours is a simple solution where you get everything we have to offer with no strings attached.
No paying extra to upgrade
No limits on:
Assignment Flow
# of Web Panel profiles
# of Mobile App profiles
Monthly Software
Month-2-Month
Unlimited profiles

Unlimited use

No paying to upgrade

No hidden fees

Price never goes up
Annual Software
12 Month Subscription
No monthly payments

Get 2 Months FREE

(save $120)
Marketing Project
2 Payments
Full Domain Project

Pay 50% to start

Pay 50% after completion
Marketing Project
1 Payment
Full Domain Project

Save $100