Richard H.

This app works great. Love the ease of operation and all the practical information provided in the map view. The updates are a breeze. I switched from another well known site and like this so much better.

Alex C.

Great product. This product makes looking for vehicles easier. Also updating and disseminate information to all personnel in the organization. Plus customers love the tracking maps with photos of where we are looking for their collateral.

Rick M.

EXCELLENT.  This app is a very valuable tool for the modern asset recovery agent. Provides complete paperless operations for the field agent. HIGHLY RECOMMEND

EJ V.

I love this app. Completely dominates similar programs. Thank you for making such a great program!

Jeffery M.

AWESOME APP!!!!! This works perfectly. Makes you money with no strings attached! I love this app!!!

Brandon S.

The Best You can't find a better Repo app anywhere, I promise you. No more paperwork in the field.

Monty D.

Unbelievable app, something our industry has need for a long time, simplicity with all the tools that you need to run the whole company and new features are still being added to an already awesome system, technical support is fantastic. Keep up the outstanding job!!!!

Brian M.

Great app.... Have not been using it long, but in two weeks time my scouts have found me five units that have been hiding for months.

Scott G.

Great System... Great People....Wonderful products

Sam T.

We are in Georgia and we love this Software,its awesome...We really recommend it to everyone that is in need of a repossession software.
↓FOR THE OFFICE↓
Website Based Maps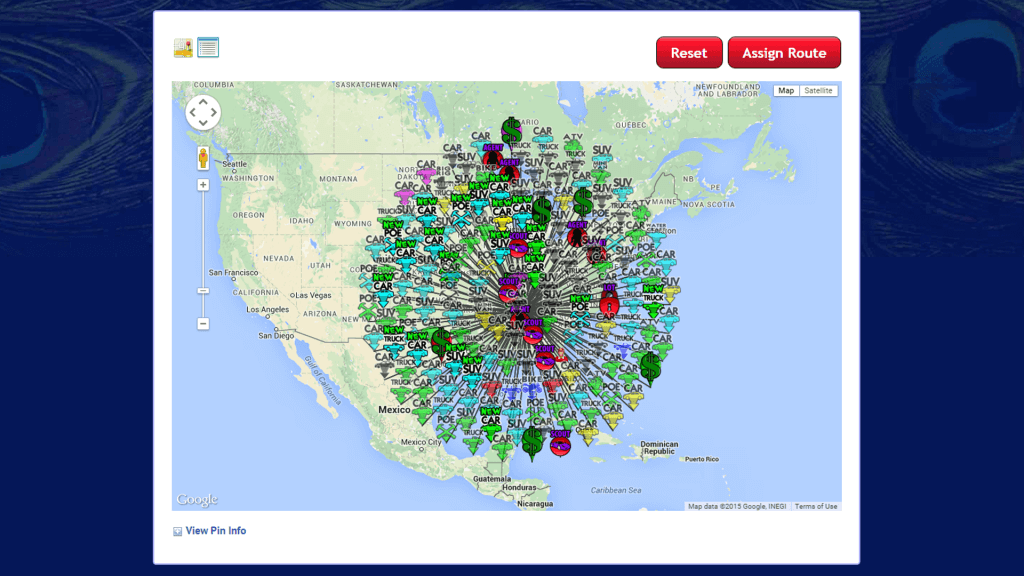 Live Maps help you better manage your efforts
Look at your maps & understand:

Client
Collateral Type
Home or POE
Recently added to the maps
Verified location and more…

Hover over pins for more Assignment info
You fully control how your mapspins look to your team
Assignment activity can trigger maps to adjust as well
Select pins to interact with assignments & send routes
Repo Specific Forms
Assignment Activity Forms
Condition Reports
Delivery Forms
Invoices (with basic Invoicing functionality)
Personal Property Forms
Redemption Forms
Release Forms
Repossession Orders
Ease Client Email Communications
Our repo software becomes an extension of your capabilities.
Outgoing emails allow Clients to "Reply" directly to your email.
Email clients automatically with real-time activity, as desired.

Updates, Status Changes, Successful Recoveries etc.
Efforts Become More Flexible, Precise & Undeniable
Field Agents can respond to Office needs without slowing down
Trucks can spend more time generating invoices than Updates
Live Maps remove wasted time wondering about needed efforts
Addresses get ruled out with rapid HD Updates
Everything Gets Backed By 2 Walls Of GPS
Your Clients will notice their addresses being run more often
You can even let your Clients:

Receive real-time email notifications
Verify Updates
View where Updates were submitted from
Login to review their assignments freely
Unlimited Website & Mobile User Profiles
VA repo software gives you as many profiles as you need.
Our repo software does not charge additional fees for anything.
Add, Edit & Restrict Your Own Users
You have full Admin control of your Web & Mobile users.
Create website user profiles & manage as desired.

Edit profile information
Change login details
Change Profile Permissions
Restrict login
5 Levels Of Data Permissions
Office (Web) – Full website functionality
CollectorClient (Web) – add, edit & review their own orders
Scouts (Mobile) – Only see address & collateral details
Recovery Agents (Mobile) – Full access to all available data
Lead Agents (Mobile) – Also gets additional Pin control
Easily Expand Your Field Presence
Look for character, rather than relying mostly on experience
It takes only seconds to set up a new Mobile user
Some users can run regularly where others run as they wish
A larger field presence can cover a service area like never before
You decide who gets more or less information through the App
Upgrade & Downgrade profile permissions as desired
Android Based Maps
Our maps help you better manage your efforts.
Look at your maps & understand:

Client
Collateral Type
Home or POE
Recently added to the maps
Verified location & more
Run Entirely On Android Mobile Devices
Access Assignment Info
View VIN specifications & pictures
Initiate Navigation to any address
Track your path around any address
Generate Updates & more…
Professional Updates Become Effortless
Our Mobile App helps ALL users generate Pro Updates
It asks questions & your users select answers on the screen
This can pull great detail from the field on a regular basis
It also restricts unprofessional verbiage in Updates
You select fewer buttons in this than typing the HD Updates out
Updates are normally ready to go directly to ANY client
Photos can easily be captured & submitted as desired
Efforts Get Automatically Backed By 2 Walls Of GPS
Users must be within 1 mile of any address to generate Updates.
Current location is also captured as any Update is generated.
This makes your Updates more trustworthy with no extra effort.
Monthly Subscription
Full user functionality

No upgrades or extra charges

Month-to-Month with No Contract

Free listing in our Repo Directory

Subscription cost never increases

$100 Set-Up today, then $50month
Subscribe
Annual Subscription
BEST VALUE!
Same as Monthly, but:

Registration Fee Waived

No Monthly Payments
Subscribe
We Also Offer Fully Managed Domain Services
Hosting
Email
Website Design
Graphic Design
Search Engine Optimization
Fully customizable, Mobile Friendly design
Live-Support on the website during design process
You can edit all all visual elements of the website
Click HERE to view our most recent domain project.
Discounts can be given for Website & Repo Software bundles…
What Comes With Our Custom Domain Services?
You can fully edit visual content in real-time with no coding knowledge.
Up to 10 custom email addresses

Use your existing Email to manage new email(s)
or Login through your domain to manage email
or use POP3SMTP

Design displays properly on Desktop, Tablet & Smartphone browsers.
Visitor Analytic Tracking with easy to understand graphs, charts and lists.

See how visitors get to your website, what gets viewed, location & more.

Email Marketing suite with drag & drop designer and Email TrackingAnalytics.
Let visitors connect to your social profiles & easily share links to the website.
Automatic Daily Server Backup with 99.9% Up-time.
Preventative security measures built into software & design.
Strict Firewall Software installed at server & website levels.